ASUS TUF VG27BQ BK/ WQHD 2560X1440 0.4MS 165HZ Pnal TN Extreme Low Motion Blur Sync, Adaptive-Sync, HDR10 شاشة العاب من شركة اسوس
Roll over image to zoom in
Click to open expanded view
1,990.00ر.س 15% added VAT included (-7%)
Compare
ASUS TUF VG27BQ BK/ WQHD 2560X1440 0.4MS 165HZ Pnal TN Extreme Low Motion Blur Sync, Adaptive-Sync, HDR10 شاشة العاب من شركة اسوس
Display
Panel Size (inch) : 27
Panel Size (inch):27
Aspect Ratio : 16:9
Display Viewing Area (H x V) : 596.74 x 335.66 mm
Aspect Ratio16:9
Display Surface : Non-Glare
Panel Type:TN
Backlight Type : LED
Panel Backlight:LED
Panel Type : TN
True Resolution:2560×1440
Viewing Angle (CR≧10, H/V) : 170°/ 160°
Display Viewing Area(HxV):596.74 x 335.66 mm
Display Surface:Non-Glare
Pixel Pitch : 0.233mm
Pixel Pitch:0.233mm
Resolution : 2560×1440
Brightness (Typ.):350cd/㎡
Contrast Ratio:1000:1
Brightness (Typ.) : 350cd/㎡
Viewing Angle (CR≧10):170°/ 160°
Response Time:0.4ms(GTG)
Contrast Ratio (Typ.) : 1000:1
Display Colors:16.7M
ASUS Smart Contrast Ratio (ASCR) : 100000000:1
Flicker free:Yes
Display Colors : 16.7M
HDR (High Dynamic Range) Support:HDR10
Response Time : 0.4ms(GTG)
Refresh Rate (Max) : 165Hz
Refresh Rate(max):165Hz
HDR (High Dynamic Range) Support : HDR10
Flicker-free : Yes
Video Feature
Trace Free Technology : Yes
Trace Free Technology:Yes
GamePlus:Yes
GameVisual : Yes
Low Blue Light:Yes
Color Temp. Selection : Yes(4 modes)
HDCP Support:Yes
Game Visual:Yes
VRR Technology:FreeSync
ELMB SyncYes
HDR Mode:Yes
GamePlus : Yes
HDCP : Yes
Extreme Low Motion Blur : Yes
ELMB Sync: Yes
VRR Technology : FreeSync
GameFast Input technology : Yes
Shadow Boost : Yes
Low Blue Light : Yes
Multiple HDR Mode : Yes
Audio Feature
Speaker : Yes(2Wx2)
I/O Ports
DisplayPort 1.2x 1
DisplayPort 1.2 x 1
HDMI(v2.0)x 2
HDMI(v2.0) x 2
Earphone jack:Yes
Earphone Jack : Yes
Audio Features
Speaker:Yes(2Wx2)
Signal Frequency
Digital Signal Frequency : DisplayPort: 30 ~243 KHz (H) /48 ~165 Hz(V)
HDMI: 30 ~230 KHz (H) /48 ~144 Hz(V)
Digital Signal Frequency:DisplayPort: 30 ~243 KHz (H) /48 ~165 Hz(V)
HDMI: 30 ~230 KHz (H) /48 ~144 Hz(V)
Power Consumption
Power Consumption : <27W
Power Consumption:<27W
Power Off Mode : <0.5W
Power Saving Mode:<0.5W
Power Saving Mode : <0.5W
Power Off Mode:<0.5W
Voltage : 100-240V, 50/60Hz
Voltage:100-240V, 50/60Hz
Mechanical Design
Tilt : Yes (+33° ~ -5°)
Tilt:Yes (+33° ~ -5°)
Swivel : Yes (+90° ~ -90°)
Swivel:Yes (+90° ~ -90°)
Pivot : Yes (0° ~ 90° Counterclockwise)
Pivot:Yes (0° ~ 90° Counterclockwise)
Height Adjustment : 0~130mm
Height Adjustment:0~130mm
VESA Wall Mounting:100x100mm
VESA Wall Mounting : 100x100mm
Kensington Lock:Yes
Kensington Lock : Yes
Dimensions
Phys. Dimension with Stand (W x H x D) : 620 x (377~507) x 211 mm
Phys. Dimension with Stand(WxHxD):620 x (377~507) x 211 mm
Phys. Dimension without Stand (W x H x D) : 620 x 363 x 66 mm
Phys. Dimension without Stand (WxHxD):620 x 363 x 66 mm
Box Dimension (W x H x D) : 704 x 464 x 210 mm
Box Dimension (WxHxD):704 x 464 x 210 mm
Weight
Net Weight with Stand : 5.8 Kg
Net Weight with Stand:5.8 Kg
Net Weight without Stand : 3.5 Kg
Net Weight without Stand:3.5 Kg
Gross Weight : 8.0 Kg
Gross Weight:8.0 Kg
Accessories (vary by regions)
DisplayPort cable
HDMI cable
Power adapter
Power cord
Quick start guide
Warranty Card
Compliance and Standards
TÜV Flicker-free
TÜV Low Blue Light
TUF gaming VG27BQ
NEXT−GEN ADAPTIVE SYNC

TUF Gaming VG27BQ is a 27-inch, WQHD (2560×1440), HDR display with an ultrafast 165*Hz (overclocking) and 0.4ms* response time designed for professional gamers and those seeking immersive gameplay. Those are some serious specs, but not even the most exciting thing the VG27BQ has in store.
For the first time in any gaming monitor, Motion Blur Reduction and Adaptive-sync can be enabled at the same time. This new technology is called ASUS Extreme Low Motion Blur Sync (ELMB SYNC). ELMB SYNC works with Adaptive-sync, allowing gamers to enjoy sharp, high speed frames.
*0.4ms response time is the fastest based on internal tests. Response time may vary depending on test conditions.
27" WQHD
TUF Gaming VG27BQ features WQHD 2560 x 1440 panel that delivers four times the resolution of 720p and 109 pixels per inch. You get to enjoy greater image detail and up to 77% more onscreen desktop space than standard Full HD (1920 x 1080) displays.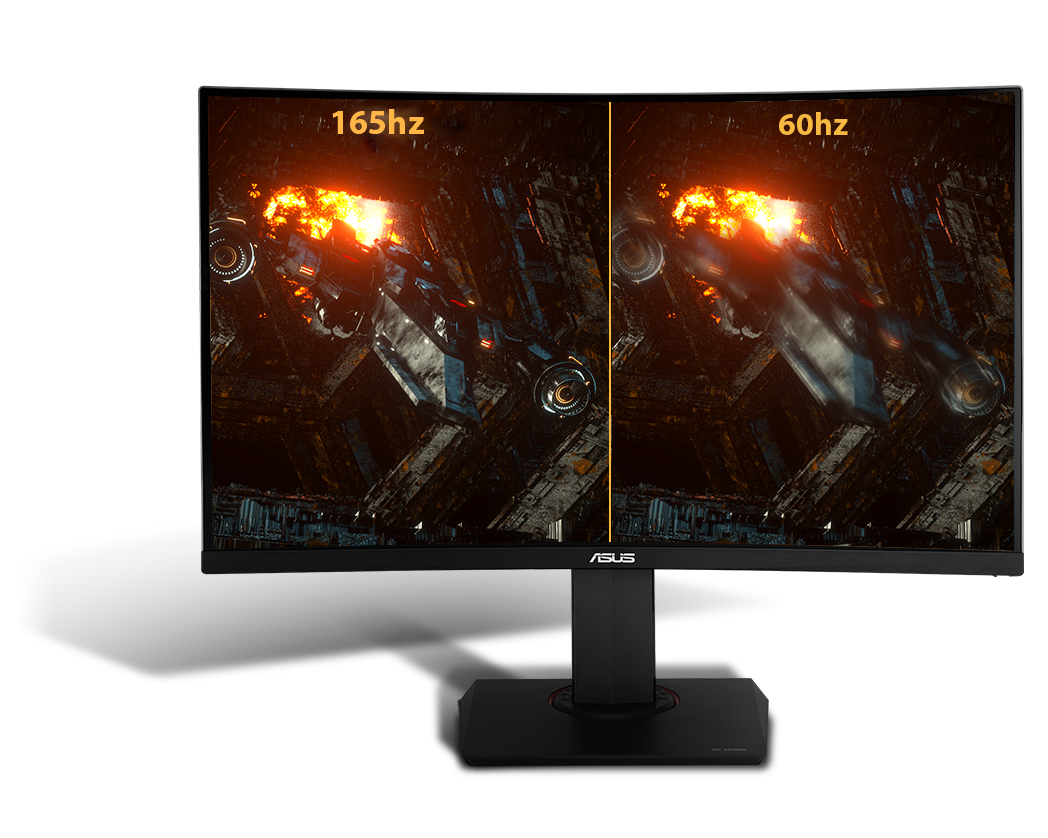 165Hz overclocking
TUF Gaming VG27BQ has a super-fast 165Hz* overclocking, ensuring that even fast-paced games played at the highest visual settings look buttery smooth and completely lag-free. Get the upper hand in first-person-shooters, racing, real-time strategy and sports titles.
*Selective graphics cards/GPUs can support 165Hz graphics source output (DP port). Please note that Over Clocking function/performance depends on the GPUs or contents displayed.
ASUS only provides this function. The performance or any side effect after activation is not guaranteed.
EXTREME LOW MOTION BLUR SYNC
With ELMB SYNC, you can enable ELMB (low-motion-blur technology) and adaptive-Sync at the same time, eliminating ghosting and tearing for sharp visuals and high frame rates while gaming.
HDR
Multi HDR Mode
Now you can choose from multiple HDR modes to adjust monitor HDR performance based on the current viewing scenario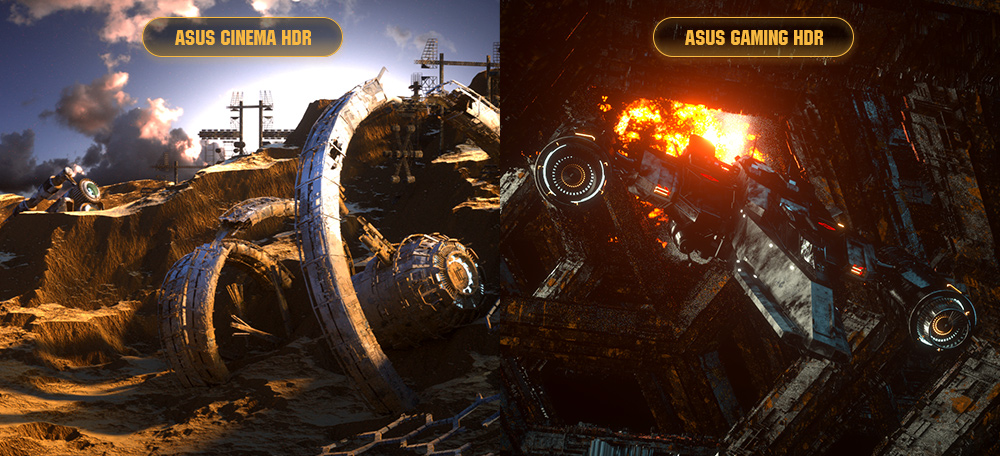 IN−GAME ENHANCEMENTS
Shadow Boost

GamePlus

GameVisual

Ultra−Low Blue
Light technology
Shadow Boost
ASUS Shadow Boost technology clarifies dark areas of the game without overexposing brighter areas, improving overall viewing while also making it easier to spot enemies hidden in dark areas of the map.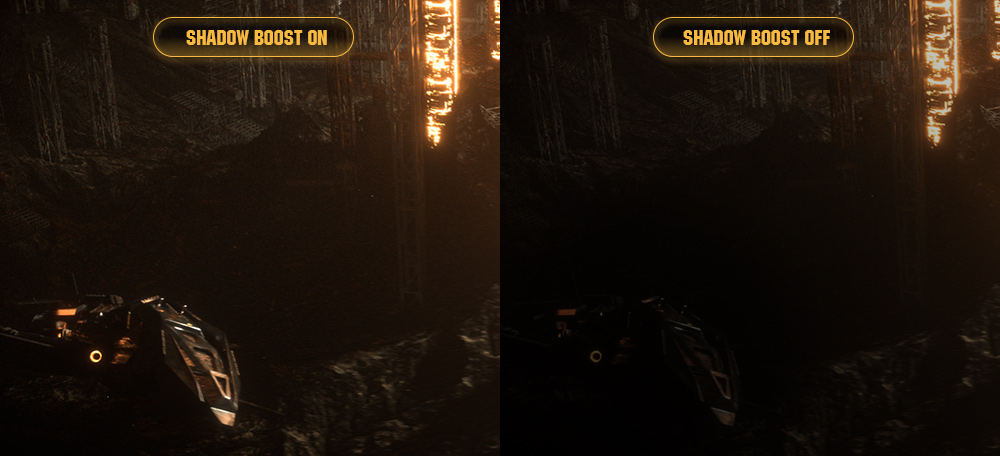 ENGINEERING
Rich connectivity

Ergonomic design
Rich connectivity
Extensive connectivity options, including, I/O: DisplayPort1.2, HDMI (v2.0) x2 support a wide array of multimedia devices.